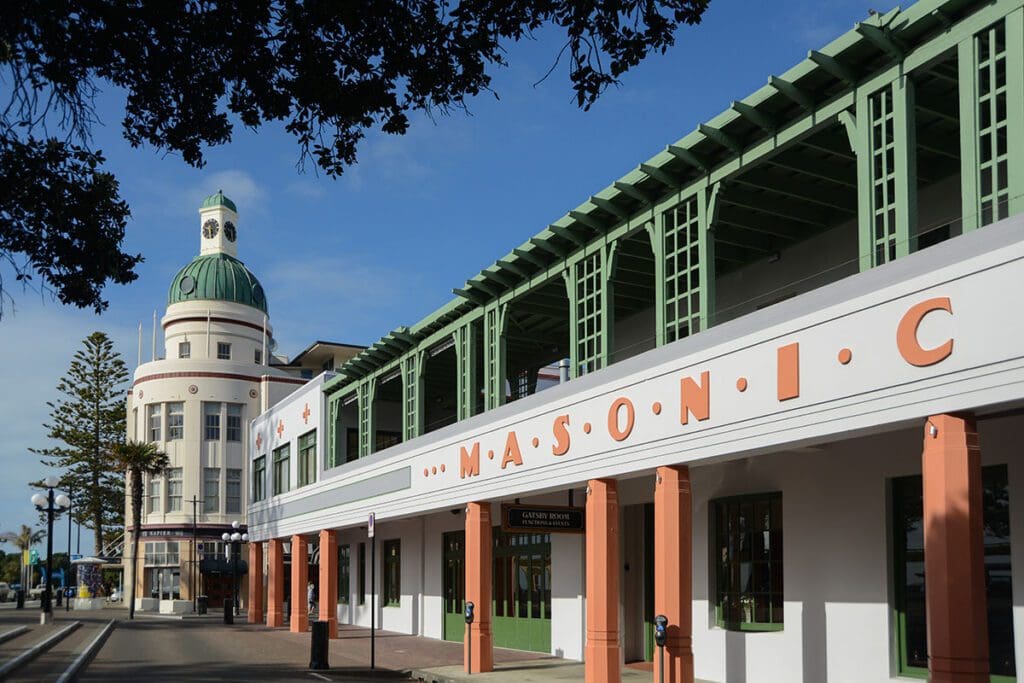 What would Napier be like without Art Deco era heritage buildings?
Become an Art Deco Trust corporate member today, and help us continue to protect, promote, preserve, and celebrate Napier's world class art deco era architecture.
Member Benefits
As a corporate member of Art Deco Trust, you'll receive these annual benefits:
An early emailing of the programme for our annual Art Deco events held every February and July, with a 'members only' booking period for these events;
A 10% discount on all purchases at The Art Deco Centre;
A complimentary Art Deco guided walk for you and your staff (up to 16 people), 10% off all additional walkers as part of the group;
Our annual digital magazine, 'Art Deco City News' along with regular membership newsletters.
Most importantly, you'll know that you belong to a group of individuals, companies and organisations who are helping to promote and preserve Napier in a tangible and very effective way!
Annual use of Art Deco Trust Theatres at no charge.
NOTE: Once payment has been confirmed – please check you 'junk' email folder if you do not see a confirmation email in your 'inbox'.
Thank you for your support!
Thank you to our corporate members:
Gold
Napier City Council
Hastings District Council
Hawke's Bay Airport
Resene
Progressive Meats
Mission Estate
Conroy Removals
Tremains
Hawke's Bay Tourism
NZME
HB Technology
The National Distillery Company
Gemco
Silver
One Pure
Bronze
Brand New Design Ltd
Standard
Napier RSA
Onekawa Liquorland
You Me and Friends Tours and Trips
Operatunity Travel
Prime Trading Limited
Cobden Garden Homestay
Sainsbury Logan & Williams
High Tea Hire
Art Deco Trust is a registered charity: CC21328