Self Guided Walk
Explore the Art Deco Capital at your own leisure.
Duration: 1 hour and 30 minutes
Price: $10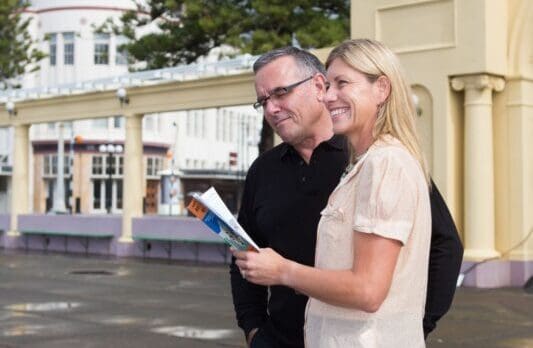 If you are unable take a Guided Walking Tour with an Art Deco Trust Guide, stroll through the streets of downtown Napier using the Art Deco Trust's Self Guided booklet, or the mobile PDF version. Guide yourself at any time of the day that suits you.
The Guide is a handy illustrated guide to Napier's Art Deco Quarter. It includes a comprehensive text and photographs revealing Napier's fascinating 1930's streetscape, born from the 1931 earthquake, fire and courage.
To purchase a copy of the Self Guided Walk booklet – purchase a physical copy from the Art Deco Centre, 7 Tennyson Street, Napier, or purchase on-line (complete the form below) and you will receive a PDF version of the booklet via email (check Junk if you don't see it in your inbox).
NOTE: If you experience difficulties at check out please contact us to discuss alternative payment options.